NVMe Gen5 : Shorten Development Time with NVMe Gen5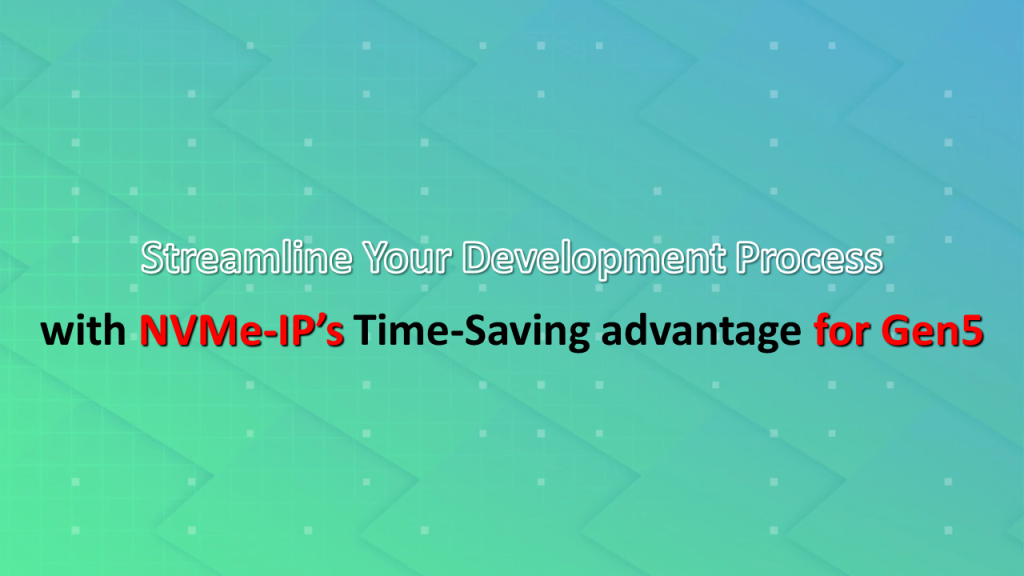 In this article, we will show you how our NVMe-IP for Gen5 can reduce development time and streamline your process.
Our latest NVMe-IP Core and development resources make it easy to integrate our IP core into your designs, saving you hours and freeing you up to focus on other critical tasks.
With our high-performance reference design, you can get your products to market faster and gain a competitive edge.
So, keep watching to see how NVMe-IP for Gen5 can help you achieve your goals efficiently.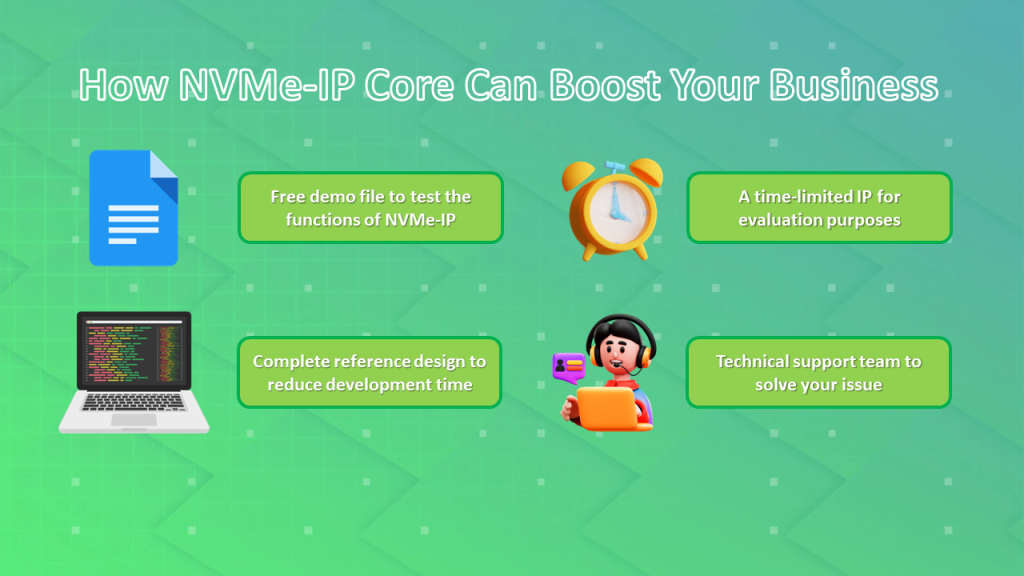 We know that time is key for our customers. That is why we offer several resources to help you reduce your development time and increase efficiency when using our NVMe-IP Core for Gen5.
Firstly, we provide a free configuration file that allows you to test the functionality of the core before making a purchase.
Secondly, we offer a time-limited IP core that enables you to integrate it into your design for evaluation purposes before committing to a full purchase.
Thirdly, we provide a complete reference design, including both hardware and software, to reduce the development time required to port the IP into your system.
And lastly, our dedicated support team is always available to help you troubleshoot any issues you may encounter.
With these resources, you can accelerate your development process and get your products to market faster than ever before.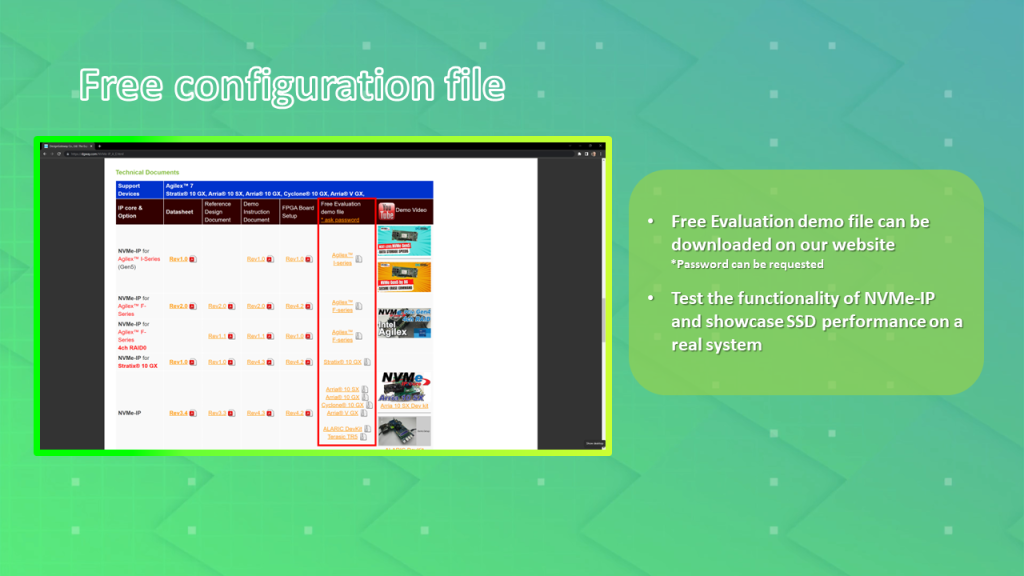 Let me show you the first resource. We offer a free evaluation demo file. Simply visit the NVMe IP page on our website design-gateway.com and click the file icon on the right-hand side to download it.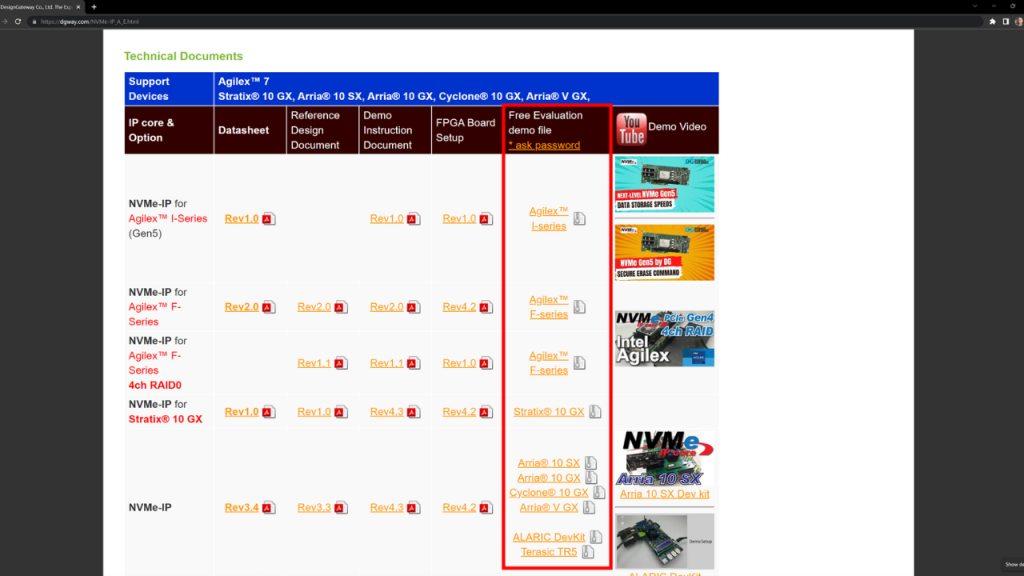 The file comes with a password that can be requested by contacting our sales team. The demo file allows you to test the functionality of our core in a real-world setting.
The demo also showcases SSD performance on a real system, so you can make an informed decision about whether our NVMe-IP Core is the right choice for your needs.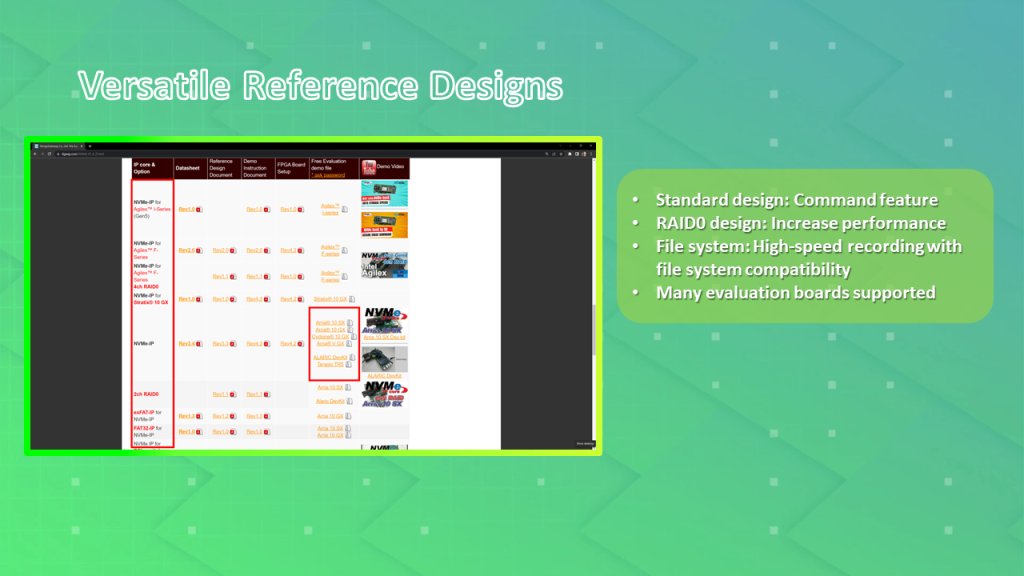 We understand that every customer has unique needs and requirements.
Our standard design showcases the core's versatile functionality, while our RAID0 design demonstrates how to increase performance multiple times.
Our file system design shows high-speed data storage with file system compatibility.
We provide these designs on many evaluation boards for each FPGA model, ensuring that you can evaluate the function with the same FPGA series that you plan to use.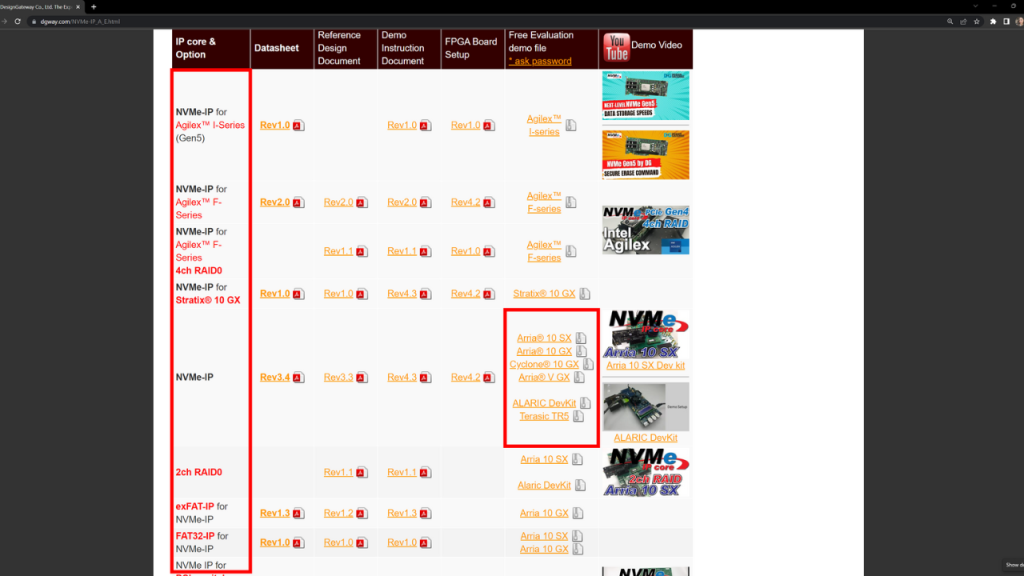 With our range of reference designs, you can choose the design that best suits your specific requirements and accelerate your development process.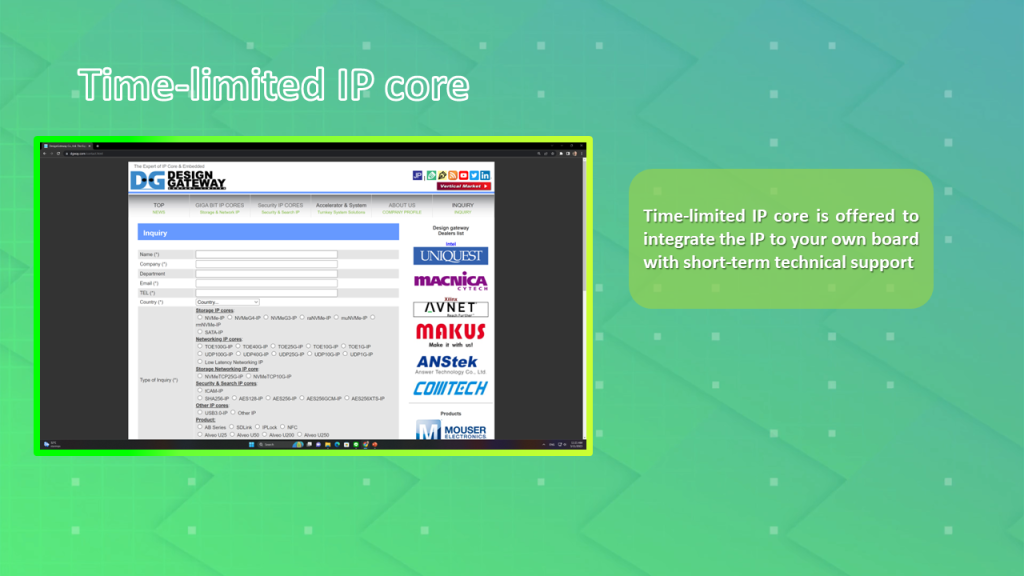 We also offer a time-limited IP core of our IP core for integration into your system and testing purposes.
To do so, please click on the "Inquiry" button on our website and provide the necessary information.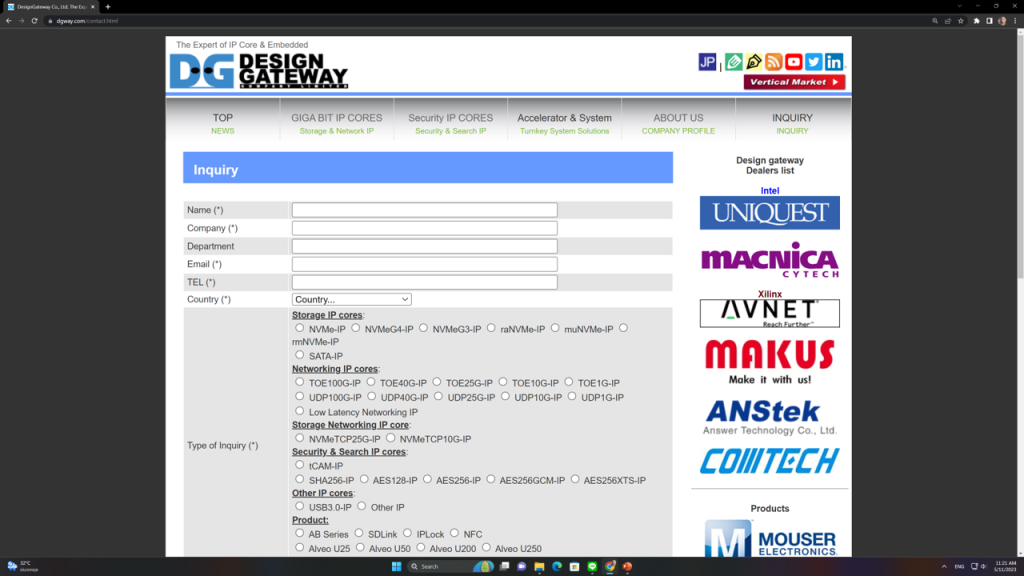 This feature allows you to integrate our NVMe-IP Core for Gen5 into your own board for evaluation purposes.
The time-limited core comes with short-term technical support to help you get started.
This way, you can assess the core's compatibility with your system and determine whether it meets your requirements before committing to a full purchase.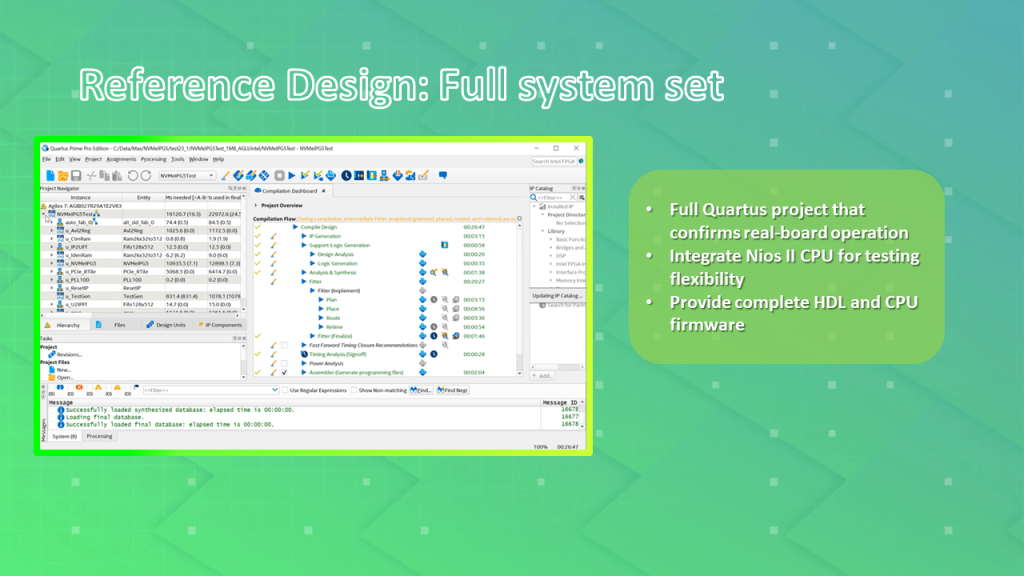 In our reference design, we offer a comprehensive set of materials that includes a full Quartus project pre-validated on real hardware, which saves you time and effort in setting up the project file, studying device compatibility, checking board settings, and solving tool version compatibility.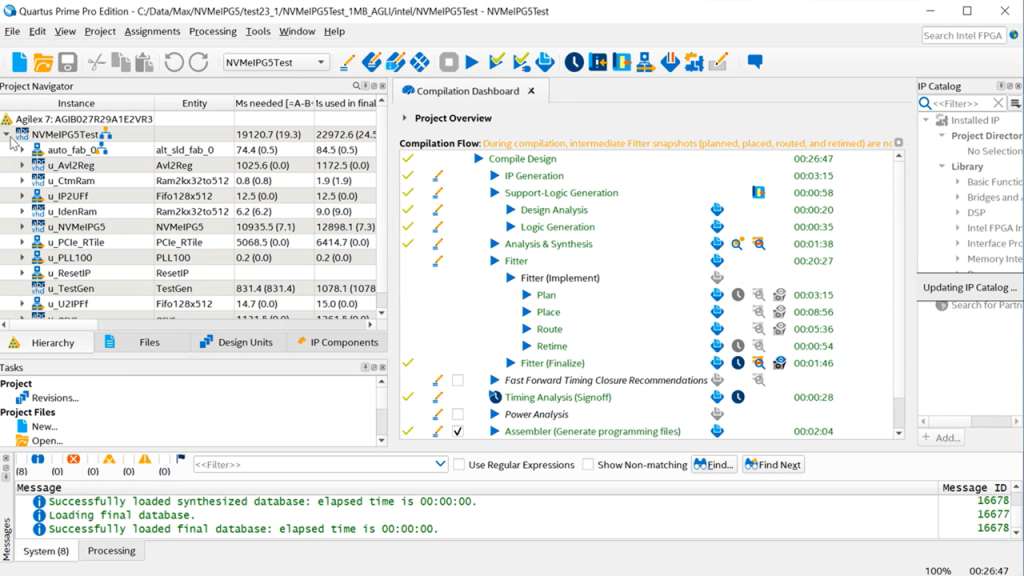 The project file also integrates the Nios II CPU for testing flexibility, along with basic components like timer and JTAG UART that are included in the Nios II system.
The complete system design, including the hardware in HDL file and CPU firmware in C file, is provided to enable you to easily modify the reference design and achieve high performance when accessing the NVMe Gen5 SSD.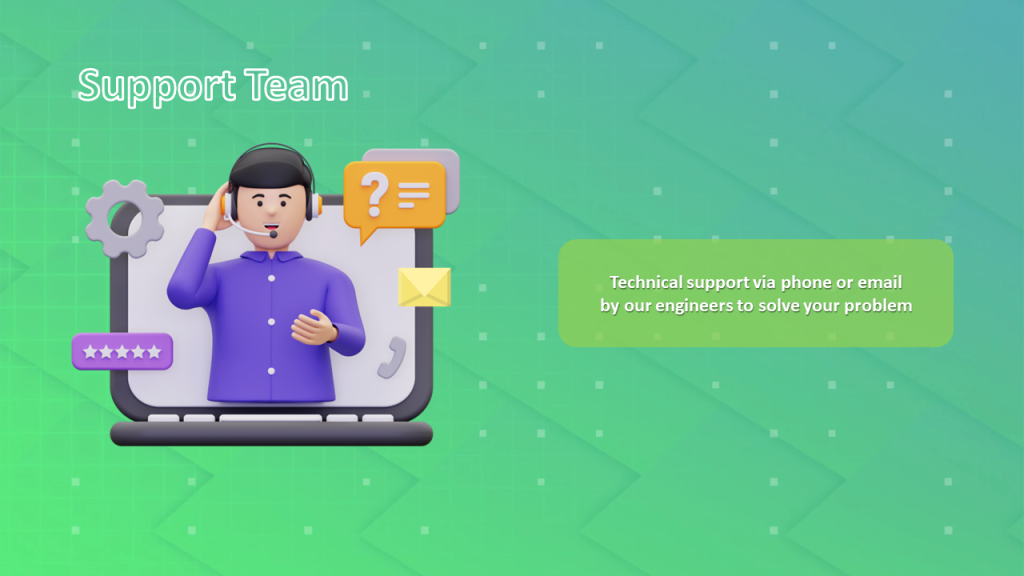 Lastly, we offer a team of engineers who have much experience to provide technical support via phone or email.
You can trust that our team will assist you in resolving any issues that may arise during the use of our NVMe-IP Core for Gen5, ensuring a smooth development process.
If you are interested in learning more about NVMe-IP Core or have further questions, please visit https://dgway.com/NVMe-IP_A_E.html
Article about NVMe-IP Gen 5