NVMe IP core operating with Avalon-MM Hard IP for PCIe from Intel is ideal to access NVMe PCIe SSD without CPU and external memory. It is recommended to use in the application which require high capacity storage at very high-speed performance. Small size system can be also designed by M.2 storage which uses PCIe protocol standard. The IP core license includes the reference design for Intel® FPGA boards. It helps you to reduce development time and cost.



Features
Implement application layer to access NVMe PCIe SSD without CPU and external memory (DDR)
Simple user interface by dgIF typeS
Direct connect to Avalon-ST Hard IP for PCI Express from Intel by using 128-bit bus interface
Include 256 Kbyte RAM to be data buffer
Support 6 commands, i.e. IDENTIFY, WRITE, READ, Shutdown, SMART, and Flush
Support NVMe device

Base Class Code 01h (mass storage), Sub Class code 08h (Non-volatile), Programming Interface 02h (NVMHCI)
MPSMIN (Memory Page Size Minimum): 0 (4Kbyte)
MDTS (Maximum Data Transfer Size): 0 (no limitation) or at least 5 (128 Kbyte)
LBA unit: 512 byte or 4096 byte

Reference design with AB16-PCIeXOVR adapter board available on Intel® FPGA boards and ReFLEX CES Alaric Instant-DevKit.
Available on Mouser
Block diagram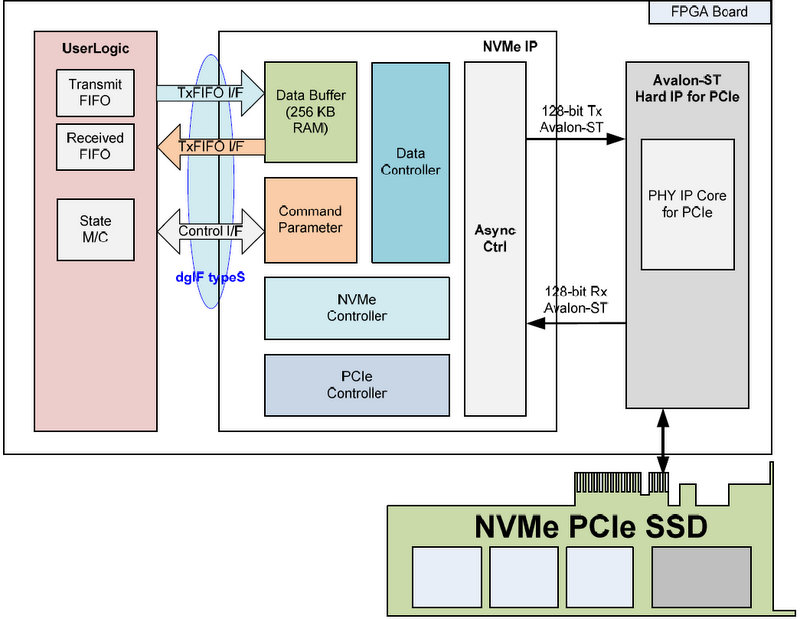 Document download
Common Documents
Documents for each Device families
Accessories for evaluation
Accessories for evaluation
Description
AB16-PCIeXOVR
PCIe Cross Over adapter board for Intel FPGA boards
Download manual

Purchase
AB17-M2FMC
M.2-FMC adapter board for NVMe-IP evaluation. Able to connect 2 NVMe SSDs. * SSD is not included.
Download manual

Purchase
About price and licence of this IP core, please contact
Design Gateway.
Performance
over 3300MB/sec for Read and over 2100MB/sec for Write
!! You can evaluate the performance on Intel® FPGA boards with free download sof file
before purchasing
.

Demo video clip on youtube
Application example
NVMe-IP core is the best solution for applications which requires huge data transmission with high-speed.
| | | | | |
| --- | --- | --- | --- | --- |
| | | | | |
| Surveillance Camera | Data Logger | Video Editing System | Medical Image Analysis | Aerospace & Defense |