Introduction of storage
In the past few decades, storing data on the computer was terrible and took ages to complete it. Therefore, we were storing only significant data such as the program or result of executing the program. Because, the capacity of storage at that time was very tiny. And, we mainly used computers for scientific purposes, not for entertainment like now.
After the rise of machine learning and AI, Data has taken a significant role in this trend. Therefore, storing data must be updated not only in capacity but also speed.
History of storage on computer

In the first era of the huge capacity of Hard Disk, the first connection was PATA. PATA stands for Parallel ATA. It was so amazing when you can store data more than 1.44 MB (Floppy disk format) on a computer. Later on, when the capacity of the Hard Disk is expanded, the transfer speed is considered as an important factor. Because, it might take several hours to transfer 100 GB of data.
Therefore, the next generation of Hard Disks was developed, from PATA to SATA(Serial ATA). In this period of SATA, the development was roughly divided into two phases. The first period was about the connector and protocol. It was developed from SATA I to SATA III. When it reached the bottleneck of magnetic disk devices, phase two of development was kicked out by using chip memory instead of magnetic disk device. When the memory chip and SATA III have found the top speed but consumers are not satisfied yet.
So a new invention was created which is NVMe. NVMe stands for nonvolatile memory express. It is only a protocol to communicate with other hardware. The lower layer mostly is PCIe and the newest version of PCIe in the market is generation 4.
High performance NVMe SSD in 2021 Market
There are many types of NVMe SSD with PCIe in the market. For example, Samsung 980 Pro (PCIe Gen4) and Samsung 970 Pro (PCIe gen3) which are the high performance NVMe SSD. But which one will suit your project ? and The latest generation is better than the previous one? You will find the answer below.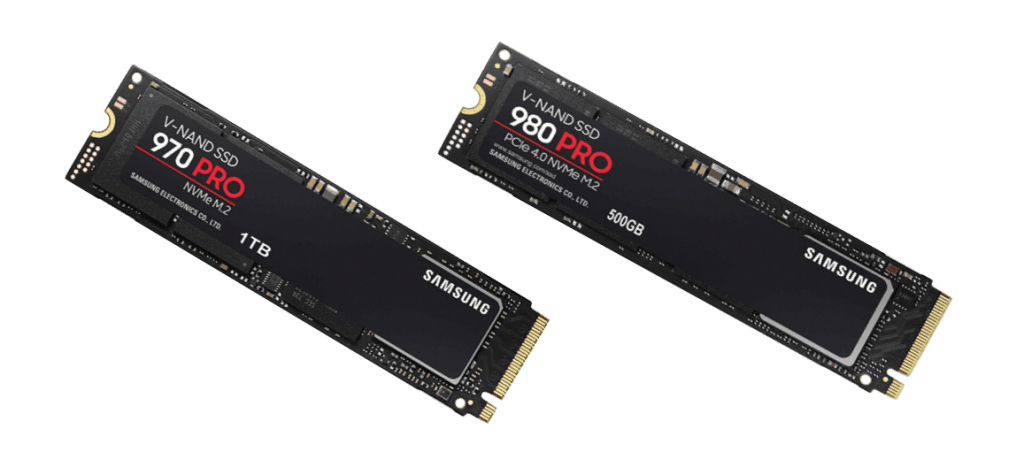 Spped / Peformance consideration
As expected, the newer technology must be faster than the old technology. Transfer speed of PATA is approximately around 16 – 133 MB/s meanwhile SATA can go up to 150 – 600 MB/s. It cannot compare to NVMe because NVMe can reach higher speed due to PCIe x4 lanes bandwidth. Theoretically, 3.9GB/s for PCIe Gen3 and 7.8GB/s for PCIe Gen4.
But actual performance is depended on Flash cell technology implementation on SSD device.

For example, if you want to continously read 8K @ 60fps video stream to the display. It means you need harddisk at a reading speed around 3000 MB/s by the equation is 8192 x 4320 x 12 bit(YUV color) x 60 fps. However, if you need to transfer with more color range than 12 bit. The speed must be increased. As in the market Samsung 970 Pro can provide a continuous speed match with the requirement for 1 channel video stream. Even Though, Samsung 980 Pro is newer and based on PCIe Gen4 interface which should be faster than Samsung 970 Pro, But its performance in this scenario is lower. As from information from caption in the picture from Anantech article
"On the longer sequential read test, the 980 PRO no longer has a clear advantage over its predecessors. The 250GB 980 PRO is slightly slower than the 970 EVO Plus even on our new testbed. The 1TB 980 PRO shows slight improvement in its performance reading back data that wasn't written sequentially, but the 970 PRO and the SK hynix Gold P31 are still significantly faster for that task."
So, please check carefully before choosing NVMe SSD in your application.
Conclusion
Computer storage has been invented for a long time from PATA to SATA and the latest is NVMe due to the needs of customers. The highest speed storage for nowadays is NVMe but you need to consider deeply in the specification whether it suits the project or not. Anyway, if you are interested in NVMe with PCIe. you can contact us via https://dgway.com/NVMe-IP_X_E.html for more information.