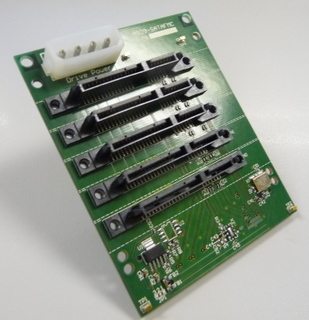 The FMC SATA RAID board [AB09-FMCRAID] is compliant with FMC standard and provides 10 SATA channels at maximum by high speed serial interface in HPC(High Pin Count)-FMC so that user can build SATA RAID prototype system.
This board supports Intel®/Xilinx FPGA evaluation boards and suitable with RAID system development with SATA-IP core provided by Design Gateway.

SATA3-IP core for RAID system Go to SATA-IP page









For RAID Evaluation, for RAID Development!
Easy to evaluate SATA-IP core!!

Get free evaluation demo file both SATA-IP and 4ch RAID demo
Demo on Intel®/Xilinx FPGA boards


Easy to check SATA-IP/RAID
before purchasing!!

Easy to develop RAID system!!

SATA-IP & RAID reference design for Intel®/Xilinx FPGA board included in IP product
Able to develop RAID system on Intel®/Xilinx board


Ensure RAID development and Reduce development term!!

4 SSDs on KC705 via AB09-FMCRAID

SATA+AHCI demo on Arria 10 SoC Development kit
via AB09-FMCRAID
Document Download

AB09-FMCRAID Manual

AB09-FMCRAID Schematic
SATA-IP core & RAID Demo on Youtube

SATA-IP core Evaluation on KC705
Youtube

SATA-IP & 4ch RAID system on KC705
Youtube
You can get these time limited bit files from

Go to download page
Order Information, Support Board
Part Number
Support Board
Purchase from
AB09-FMCRAID
Arria® 10 SoC, Arria® 10 GX, Cyclone® 10 GX
ZCU102, VCU118, KCU105, KC705, ZC706, AC701, VC709, VC707
Support
Design Gateway only support this product operating with free evaluation bit file provided from us on Intel®/Xilinx FPGA board. It is out of support with any other design and any other FPGA board.