Document Download
│
Buy
Design Gateway, the leading provider of Intellectual Property (IP) cores for data storage, networking and FPGA-accelerated computing, is selected as a member of Xilinx's VAR Founders Club and offers high performance computing solutions based on Xilinx's Alveo Cards.

Xilinx's Alveo Card delivers significant performance advantages in key data center workloads, including Computational Storage, Database and Data Analytics, Financial Technology, High Performance Computing, Network Acceleration, Video Analytics and Artificial Intelligence (AI).

The Alveo Card's reprogrammed capability also increases adaptability and flexibility as workloads evolve, unlike fixed function accelerator cards.
Avilable Demos on Alveo Accelerator card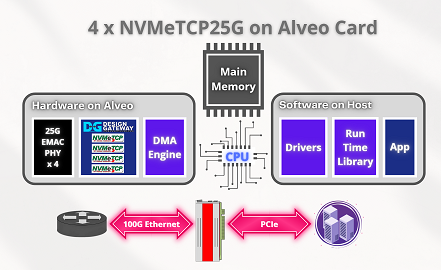 4 x NVMeTCP25G Demo
---
Design Gateway provide 4 x NVMeTCP25G reference design on Alveo Card to fully utilize 100GbE (25G x 4) Ethernet interface port on Alveo Card and demonstrate NVMe/TCP Host performance on Alveo Card with NVMeTCP Target.
Each NVMeTCP connection performance can achieve 2GB/s or more depended on NVMeTCP Target. This reference design is available for NVMeTCP25G core customer for evaluation and shorten your development time.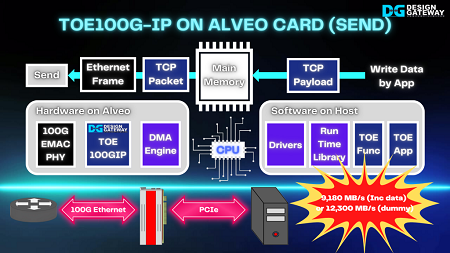 Full 100G TCP offload by TOE100G-IP
---
TCP transmission at 100G speed is a compute-intensive workload for CPUs and it is difficult to achieve high sustained throughput without hardware accelerator.
TOE100G-IP Core is designed to fully offload TCP transmission from CPU by pure hardware logic. Our demo application on Alveo Card can achieve nearly 100G throughput with minimal CPU usage.
YouTube Video Series
Blogs

Design Gateway's Technology Blog: Turnkey Accelerator Systems
Turnkey Accelerator system
TKAS-D2101 Specification

Intel Core i7 Processor with Deep Learning Boost AI acceleration and AVX-512 instruction set
DDR4 3200MHz Memory up to 128GB
Supports up to 1 x double slot Accelerator cards
- Standard model: Alveo U50 (Changeable to U25, U30, U200, U250 and U280 as an option)
PCIe Gen4 support
Total support 3 x M.2 slots and 5 x SATA ports
Tower Case with Thermaltake CPU Cooling Systems
Pre-installed and ready to use
- Ubuntu 20.04 LTS Server
- Xilinx Machine Learning Suite
- Xilinx's Vitis AI Docker container

TKAS-S2101 Specification

Dual 3rd Generation IntelR Xeon Processor with Deep Learning Boost AI acceleration and AVX-512 instruction set
DDR4 memory up to 3TB
Supports up to 2 x double slot NVIDIA A100 Cards
PCIe Gen3 and Gen4 expansion slots
Support SATA/SAS/Gen4 NVMe Storage
Dual 2400W 80 PLUS Platinum redundant power supply
2U Rack Server with NVIDIA validated platform
Pre-installed and ready to use upon request
* Features and specifications are planned and subject to change without notice.
Buy from Design Gateway

Alveo Accelerator Card Partner Network Page