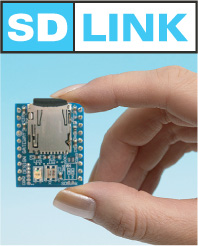 SDLink is a high speed FPGA configuration module which stores data on microSD card. By swapping microSD, FPGA configuration data is accordingly updated.
- Use
microSD
. High availability,High capacity and High-speed programming
-
Easy
to use. Easy to update the circuit by just swapping microSD
Available now on Mouser!!
Software Download, Documents, Support Device List and Ordering Information
Low cost, Ultra high-speed Programming and Easy to update
Cost Performance

SDLink attaches 16GBytes SDHC microSD card which is unlimited capacity for FPGA configuration data. The cost performance is up to 1/1000 compared with the conventional configuration ROM. (*Price per bit. Comparison with 128Mbit configuration ROM)

Drastic shorten programming time for large scale FPGAs

Conventional on-board flash memory takes several minutes for 42MBytes configuration data programming. SDLink just takes 3 seconds. Moreover, Easy to update logic in fields because SDLink does not require the programming cable any more.
In prototype production, SDLink is very useful for testing the circuit data of various patterns in a short time, and then you can change to standard configuration ROM when mass-producing.

Hot Swap Function

SDLink can remove microSD after configuration. After that, when microSD card insert again, SDLink start high-speed configuration immediately. It is useful for updating circuit data without system shutdown.

Schematic check support

Design Gateway provides free schematic check for SDLink users. You just send configuration part of the schematic to make sure the circuit design.
Contact Us
---
Software Download
Technical Documents
Support Device List
Ordering Information