Features
┃
Block diagram
┃
Document Download

muNVMe-IP (Multi User NVMe IP) is designed and optimized for multiple data stream access to single NVMe SSD by multiple users simultaneously. muNVMe-IP can achieve close to SSD's maximum possible throughput for both mixed read/write and same direction access. This IP is recommended for the application that requires high performance & multiple data streaming or sequential access over single NVMe SSD by pure hardware logic without CPU/OS. Customization to increase the number of users is possible upon customer's requirements.
No CPU/DDR required
Standard Type
No PCIe Hard IP required
>500K IOPS random write access
Multi user simultaneously access
Random Access By Multiple Users
NVMe-IP core series Selection Guide
to choose suitable solution
NVMe host controller for access one NVMe SSD without CPU and external memory
Support 4 users (Gen4) / 2 users (Gen3) to access one SSD simultaneously
Simple user interfaces by dgIF typeS
Include 256K bytes or 1M bytes RAMs for per user
Command support:

User#0 (Main user): Identify, Shutdown, Write, Read, SMART, and Flush
User#1-3 (Sub user): Write and Read

Supported NVMe device

Base Class Code:01h (mass storage), Sub Class Code:08h (Non-volatile), Programming Interface:02h (NVMHCI)
MPSMIN: 0 (4KB)
MDTS: At least 5 (128 KB) or 0 (no limitation)
LBA unit: 512 bytes or 4096 bytes
Support multiple queues

User clock frequency must be more than or equal to PCIe clock (250MHz for Gen3/Gen4)
Operating with Integrated Block for PCI Express from Xilinx by using 4-lane PCIe Gen3 (128-bit bus interface) or PCIe Gen4 (256-bit bus interface)
One muNVMe IP connects to one NVMe SSD directly

Available reference design:

Four-user demo on VCK190
Two-user demo on KCU116 and ZCU106
2-ch RAID0 demo on ZCU106

Customized service for following features

Additional NVMe commands
Increase user channel

---


Block Diagram
* Click to show more detail

Please receive technical document update from DG News Letter.
Subscribe to DG News

Technical document update page
| | |
| --- | --- |
| Documents | |
| Introduction Video | |
| Design Gateway's Technology Blog | |
Technical Documents
Application Example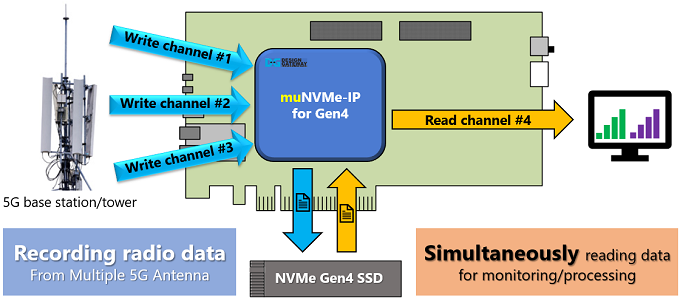 muNVMe-IP is suitable data storage solutions for next generation 5G/6G base station or data logger.
Accessories for evaluation
Accessories for evaluation
Description
AB18-PCIeX16
PCIe x16 Lanes Crossover adapter board for NVMe-IP evaluation
Download manual

Purchase
About price and licence of this IP core, please contact
Design Gateway.