Features
┃
Block diagram
┃
Document Download
┃
Applications

TCP Offloading Engine IP core (TOE100G/40G/25G/10G/1G-IP) is the epochal solution implemented without CPU. Generally, TCP processing is so complicated that expensive high-end CPU is required. TOE100G-IP built by pure hardwired logic can take place of such extra CPU for TCP protocol management. This IP product includes reference design for Xilinx FPGA. It helps you to reduce development time.
DesignGateway provide free demo file for Xilinx FPGA boards. You can evaluate TOE-IP on real board before purchasing.
All pure hardware TCP/IP protocol stack
Support IPv4 protocol
Support one port connection (Support Multi-session by implementing multiple cores)
Supports Full Duplex communication
Support both Server and Client mode (Passive/Active open and close)
Support Jumbo frame

Simple data & control interface
AXI4 stream interface with Xilinx Ethernet MAC
Super low-latency DG 10G EMAC-IP for TOE10G-IP core (Option) Learn more
Provide free evaluation bit file for FPGA Development Kits (1 hour time limited)
Register and get password
Reference design is included in IP core product

Technical document update information
Sales Materials
YouTube & Blogs
Technical Documents & Free Evaluation file
Performance
TOE100G-IP achieves 12GB/sec with Xilinx KCU116 and Alveo U250. The performance demo on Youtube

Watch YouTube

TOE100G-IP Performance Demo : Picture Story Blog

Muiti-Session Demo
The TOE100G-IP core multiple sessions reference design is implemented to utilize 100G Ethernet channel effectively and maximize TCP throughput by multiple instances of TOE100G-IP.
It impro It significantly improves the performance of TCP communication dropped due to the restrictions on the PC side without any expensive enterprise grade server.

YouTube: TOE100G-IP - Multi-session performance demo on KCU116

TOE100G-IP Multi-Session Demo : Picture Story Blog
Super low-latency DG 10G25G EMAC IP core
DG 10G25GEMAC core implements the MAC layer for TOE10G-IP core and highly compatible with Xilinx MAC. It has many advantages.



Super low-latency, Tx=19.2nsec, Rx=44.8nsec.
Minimized resource usage, 1/2 of Xilinx MAC core.
Very low price, 1/5 of Xilinx MAC core.
| | | |
| --- | --- | --- |
| | DG 10G25GEMAC-IP | Xilinx 10GEMAC |
| Tx latency (clk freq.=156.25MHz) | 19.2ns (3clk) | 19.2ns (3clk) |
| Rx latency (clk freq.=156.25MHz) | 44.8ns (7clk) | 115.2ns (18clk) |
| CLB LUTs | 1873 | 3498 |
| CLB Registers | 1072 | 3291 |
| CLB | 326 | 694 |
TOE100G-IP
is the best solution for the system which has to process big data with minimum time.
Multi-channel HD video streaming
Autonomous driving development system which consist of multi channel of Camera, Lidar, Radar and sensors
Medical scanners such as MRI and PET scan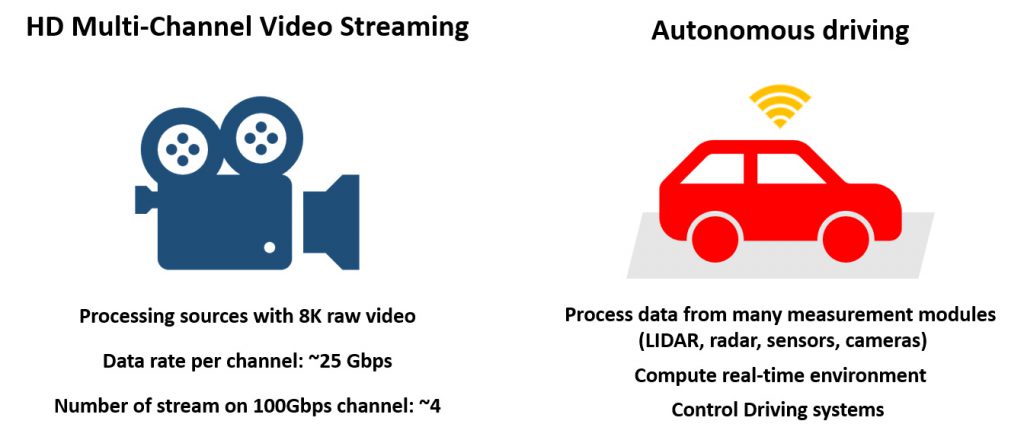 TOE100G-IP introduction & Application example video clip on YouTube.
Watch
TOE100G-IP & Suitable applications : Picture Story Blog